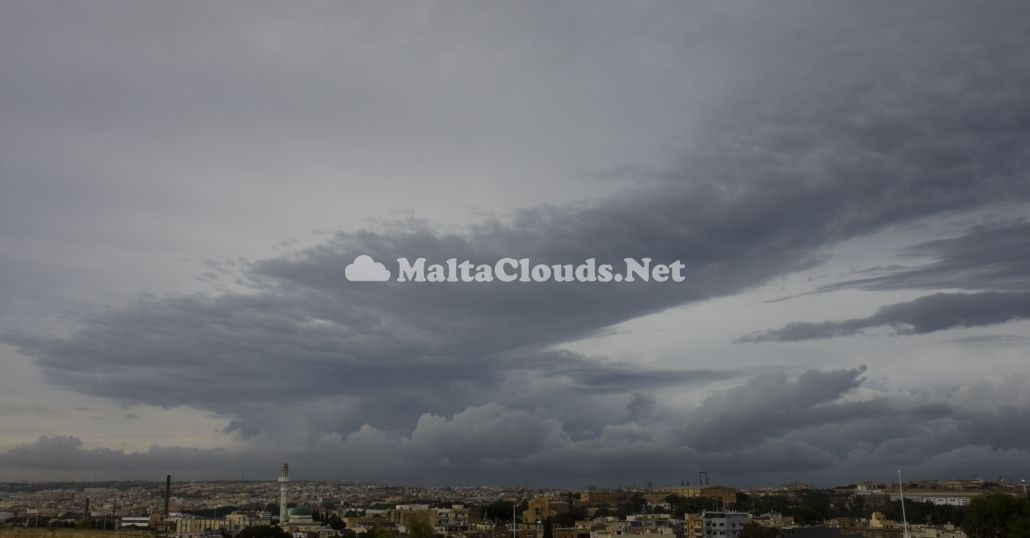 A shallow cumulonimbus anvil cloud composed of altocumulus clouds and which has formed due to a developing frontal system to the north of Libya leading to the contrast between the rain-cooled airmass around the Maltese Islands and this front. Note that for four consecutive days from the 2nd until the 5th, the Maltese Islands were dominated by heavy thunderstorms. In fact, temperature had risen during that night confirming the presence of a warm front.
This is indicated by the SLP on the 3rd thumbnail. The first thumbnail is cumulus congestus photograph (always with the high cloud cover) that developed due to that cooler airmass over warm waters leading to convection instead of stratus clouds. The second thumbnail shows the weather sounding indicating lots of available moisture and some instability favouring the formation of not intense cumulonimbus clouds as was confirmed by the satellite image of the fourth thumbnail.
The following day was characterized by a mesoscale convective system which moved relatively quickly over the Islands. The fifth thumbnail shows the visible satellite imagery of this storm.